Sandy J. Green
REGULAR PEOPLE + EVERYDAY THINGS = SOMETHING EXTRAORDINARY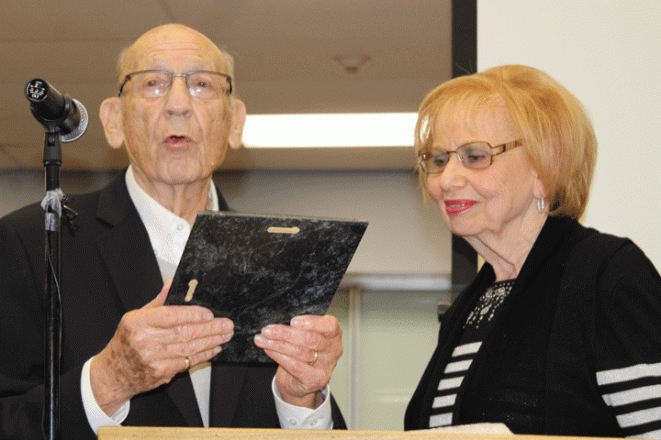 There was a time in my life when the idea of being ordinary scared me to death. For a little while, I could not imagine a fate worse than ending up in my hometown, with an ordinary job, doing ordinary things. I wanted my life to be something different - something special.
But youth makes fools of us all because at the time, I had no idea that regular people doing everyday things is actually what makes the world so beautiful. I didn't yet understand that ordinary and extraordinary could actually exist at the same time - and often do, if we take a moment to step back.
Last week, my family had the opportunity to celebrate the extraordinary as my grandfather - my Popoo (sometimes known as Mal Sumka) - was inducted into the Parsippany High School Hall of Fame. Before Popoo was awarded this honor I didn't even know that high school halls of fame existed, and as we neared the big event, I chuckled at the 'small-town' feeling of it all. The way our local papers were reporting on the story, you would have thought it was the Rock and Roll Hall of Fame. My Nana (sometimes known as Myra Sumka) and Popoo invited over 50 of their friends and family to attend the ceremony and celebrate together afterwards. I couldn't help but get wrapped up in the excitement as well, contributing several pictures to the slideshow the school was making in Popoo's honor.
My Popoo is a proud 93 year-old and a WWII Veteran. Upon finishing his service, he dedicated his life to two things - education and his family. For several decades, he served Parsippany High School, first as a teacher and later as an administrator. He had a love and and talent for computers before anyone knew what they were and brought the first computer to the High School. It took Popoo and his students two years to build it, it took up half a classroom and cost $10,000 in supplies. He followed that by creating and teaching courses in programming, wrote curriculum and created a work-study program that continues today. Popoo was also a scout-master for many years and some of his scouts even came to the induction ceremony! He did all of this while being a devoted father to his 4 children, with a level of engagement in their lives that was nothing short of unusual for the 50s, 60s, and 70s.
And then there's my Nana. All too often, the women behind the men go unseen. And my Nana is certainly the woman behind the man when it comes to Popoo. She is a force to be reckoned with (in the best way possible) and my Popoo couldn't have accomplished his successes without her. To me, one of the best parts of the night was when he not only thanked Nana and acknowledged her role in his life, but called her up to the podium to get a plaque of her own and share in the award.
My Popoo started his speech with these words, "They told me to brief. But I'm 93 years old and I've never been brief...I'll start with my 4th year of high school". Everyone laughed, thinking he was joking. Spoiler: he was not. But honestly, I don't think anyone minded. That night was so much more than just the induction in the hall of fame; it was my Popoo's lifetime achievement award. He told stories of the army, Columbia and Rutgers Universities, meeting and marrying Nana, his 4 children, 5 grandchildren, and his 2 great-grandchildren. He and my Nana live in the suburbs, in an ordinary house, working ordinary jobs, and living ordinary lives. But when you take a step back - their lives have been, and continue to be, nothing short of extraordinary. They lead with kindness. They care for their community. They prioritize family. They give back to the world around them. Over 55 people came out to celebrate my Popoo; some he knew over 60 years ago. It takes a special kind of person to make that kind of impact. I'm so grateful that Jared and Avi not only know them, but are building meaningful relationships with them. And will continue to do so for many (many) years to come.
As a final thought, I've asked myself a few times if this is a story about motherhood. And I think it is. If ever there's a time in our lives to find the extraordinary in ordinary, it's motherhood. It's not easy to find the extraordinary in the 3am wake up, the first flu season and potty training. But if this past week has taught me anything it's that these are the moments in which we need to look for the extraordinary. It doesn't mean we're supposed to enjoy every moment. We can't put that kind of pressure ourselves. But I think if every once in awhile, we stop to look for it, we'll find it.